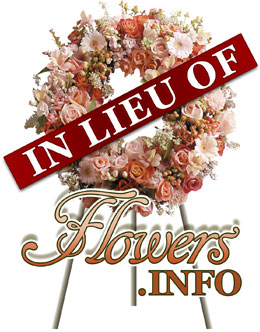 [

Click Here to Print
|

Save this Page
|
Go back to article
]
The Powerful Language of Flowers
By Alice Adams
Reprinted from the Texas Funeral Directors Assoc. Magazine with permission
My Favorite Aunt Died
In October, my favorite aunt died. She was 97.
She was buried on a Wednesday at 1 p.m. The blazing West Texas sun had no trouble penetrating the green tent that sheltered her casket and the ongoing drought contributed a brownish-yellow backdrop of long-dead Bermuda grass.
As I sat in a chair opposite the simple blue casket and listened to the clergyman deliver the brief eulogy, it seemed like – even felt like – something was missing. Something important.
Then I saw it. Or, rather, I didn't see it. There was no floral spray atop the casket. No, there was nothing – just the smooth blue top, stark and barren against the horizon.
How could this important part of my aunt's tribute have been overlooked? It may have been her three children, still feuding after a disagreement over the settling of their father's estate a few years earlier. Or perhaps the funeral director hadn't mentioned the casket spray since my aunt had pre-arranged her service 15 years ago. Or perhaps no one had bothered to educate her next-of-kin about floral tributes and the role they play in one's celebration of life.
A respected Texas funeral director said every floral shop in town knew to deliver flowers two hours before the service and silk sprays, provided by local florists, were used in case the family arrived early for a viewing. The reason for these protocols? So the family would not have to experience the bareness, the starkness, even the ugliness of a bare casket.
Whatever the reason for my aunt's bare casket, I will never forget that final picture: the boiling sun, cheesy green tent, the burned grass, the blue casket, bare and stark against a pale horizon. And I will never believe that funeral was a satisfactory celebration of my aunt's life. This was a woman truly ahead of her time who put everyone ahead of herself, planned exquisite parties and made sure everyone attending was comfortable and having a good time, whose zest for life was equaled only by her energy and her success in the business world at a time when women were expected to stay at home.
My aunt, a woman of style, determination and class with a deep and abiding love of all things beautiful deserved more on that hot, barren West Texas day.
© 2023 InLieuOfFlowers.info, All Rights Reserved.