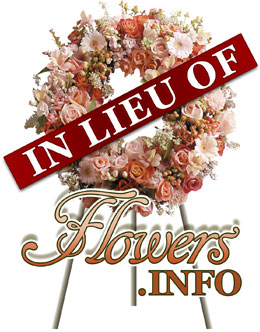 [

Click Here to Print
|

Save this Page
|
Go back to article
]
The death of a family member or close friend is one of life's most painful episodes. Those in mourning need support and most of us are anxious to find some way to comfort them. One of the most appropriate and appreciated ways to express sympathy and compassion, as well as respect for the deceased, is by sending flowers.
Occasionally, the obituary announcement includes the phrase "In lieu of flowers, contributions may be made to...". Often times, this terminology is used to encourage charitable gifts but not necessarily to discourage other expressions. Most families sincerely appreciate all personal expressions and may later regret having too few flowers at the funeral. It is important that each giver make their own choice and many people are choosing to send a floral remembrance to the service or family home as well as a donation to the charity indicated. While a monetary donation is a worthy tribute, there is really no substitute for beautiful flowers at a sympathy service. They comfort the living as they commemorate the lives of the deceased.
---
© 2023 InLieuOfFlowers.info, All Rights Reserved.